Cancelled classes
There will be no classes on Saturday the 17th August as the hall is being used for an event, all other week day classes are on as normal and students are welcome to attend one of these to make up for the missed class. Our midweek classes are on Tuesday and Thursday at 6pm, we apologise for any inconvenience caused.
Upcoming gradings
The August grading will be held on the 10th August and the September grading will be held on Saturday the 28th September. Both gradings will start at 12.15. The cost is £30 per person and all details can be found at www.titantkd.com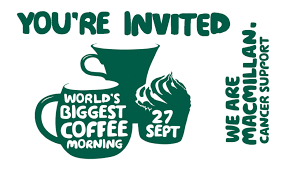 Mac Millan Coffee Morning
We will be having another coffee morning on Saturday the 21st of September, we managed to raise £260 last year so lets see if we can top that total! We will have loads of cake (of course) to tuck into so feel free to invite friends and family along!
This year there will also be a bake off event and other competitions to enter!
Extra grading practice
There is an opportunity for our green belts in our beginners class to do some extra grading practice before sitting their blue tags and moving up to the advanced group. Students are welcome to stay after their regular lesson for 15-20 mins to work with an instructor on specific grading requirements.
This opportunity is also open to our advanced class who are looking to attain their black belt, just stay behind after class.
Sparring class
Our sparring class runs from 12.15 – 1.15 after the advanced class on a Saturday and is open to all students. Why not pop down and give the class a try?!